D

I

Y

Easter Egg Candles 
Spring has officially sprung and my chickens are laying full force.  Egg shells do not go wasted around here.  Like most things, I try and find another use for them.  Egg shells are loaded with calcium and are excellent to feed to back to the chickens for nice hard shells in return.  During the gardening season, I crumble up the shells and plant them with tomatoes and bell peppers for a slow release calcium boost that our soil greatly lacks, leaving our nightshades with blossom end rot.
With Easter coming up and snow still on the ground (BOO!) my daughter and I thought we would use the excess shells to make a simple Easter craft.  My daughter is a crafty little bugger (I have no clue where she gets it:) and loves all thing chickens.  She's my favorite lil pink person and I couldn't be more blessed.
Since we happen to have way to many chickens (in my hubby's words not mine) that bless our families table with beautiful free-range eggs everyday, lil CB and I decided to make good use of those beautiful shells and make some candles!
This project is so simple, that my 6 year old practically did it all by herself, minus the hot wax part.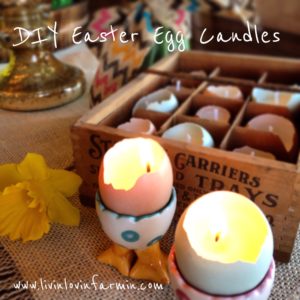 Here's whatcha need.
1 pound or 4 cups, soy wax flakes.
1 dozen egg shells, tops carefully taken off and shells cleaned out and dried.
1 dozen candle wicks.
Over a double boiler, slowly melt the wax flakes, stirring regularly.
Place your empty dried, topless shells in a egg carton to hold them stable.
While your wax is melting, carefully place the wicks in the bottom of the egg shells and trim to desired lengths.
Once your wax is melted fully, CAREFULLY pour it into the eggshells. If need be, stabilize the wick with a toothpick. Allow the wax to dry at least 1-2 hours before moving or lighting.
That's it!  Now you have a unique addition to you Easter or Spring time centerpiece!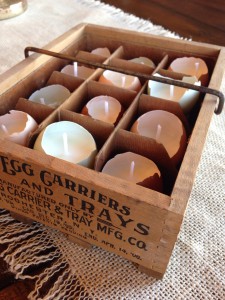 Love my vintage egg box? It was my husbands grandmothers.  She dug it out of her old barn for me just before her 102 birthday.  Yup.  She was a farm girl to the end.
 Livin Lovin Farmin is a participant in the Amazon Services LLC Associates Program, an affiliate advertising program designed to provide a means for sites to earn advertising fees by advertising and linking to Amazon.com.


Looking for a Easter treat? Check out my  Turtle Rice Krispie Treats.