While on my naturally living quest, I stumbled across a all-natural cleaning product called Branch Basics. I was actually reading a another popular  cleaning product review on Amazon.com when I read about this All-Purpose Cleaner from Branch Basics.
Branch basic is a nontoxic soap concentrate made of food grade ingredients including coconut oil, minerals and enzymes from edible and seed bearing plants. Branch basic is truly a all-purpose cleaner from cleaning carpets,  to vegetable wash and makeup remover, straight to baby bottoms!  The powerful cleaner also tackles toilets, leather and tough adhesives. Did I mention you can also use it as wiper fluid?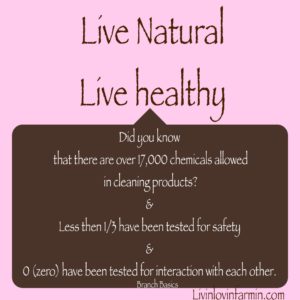 One of my favorite way to use branch basics is carpet cleaner. To me carpets are intimate. They're soft, comforting and your favorite little people crawl around on them. So naturally when it comes to spot cleaning my carpets, the last thing I'm going to spray on them is a toxic carcinogenic.
I put branch basics to the test with the help of my super-mouse eating cat, Boots. As much as I appreciate boots' service to our farm, he also is a bit bulimic. Boots can devour a entire mouse within two minutes. And about five minutes later the entire mouse comes back up. Typically boots choose to ralph up his mouse on my daughters carpet.  Leaving a disgusting colored stain.
I whipped up a batch of 1 part concentrate to 30 parts of water and put it in a spray bottle.   I saturated the stain and let it sit for about two minutes.  Using a clean dry cloth I simply absorbed the fluid.  That's it.
The stain completely disappeared. With a simple nontoxic food grade mixture and without any terrifying ingredients that I can't pronounce. The stain was gone and I was sold immediately. The best part is, I feel completely confident in this cleaner and now when the cat vomits, my daughter can clean her carpet, all by herself. It's like two gifts in one, really!
Branch Basics cleaner definitely goes on my list of must haves in the natural household.  Along with Young livings Thieves, Norwex Dryer Balls and good old fashioned vinegar.
The amazing ladies at Branch Basics are offering my readers a 20% off coupon on your next Branch Basics order. Check out them out.  I highly recommend this all purpose cleaner!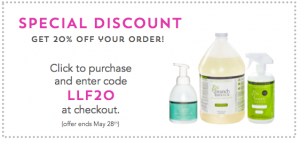 * I was not paid or influenced to post this review. Nor will I be compensated for any purchases made to BranchBasics.com.   All thoughts are mine and mine alone.
For  Branch Basics ultimate user guide click HERE ..