The folks that wrote Beyond Bacon have done it again my friends…
When I found out that I was given the opportunity to review the Paleo Parents new ebook, 3 Phase Paleo, I was absolutely ecstatic, as in, jump around like a glorified nerd, ecstatic! Not kidding.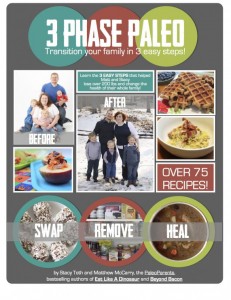 I am excited about this new book for several reasons.  As a mom of 3 and a wife of 1. 🙂  I strive everyday to provide my family with a healthy nutritious Paleo meal. In the beginning it was a total struggle to figure out what the heck I was going to feed them, (three times a day, mind you,)  that wasn't banned from the "diet". The Paleo Parents, Matt & Stacy, have lined out three phases to make this change simple and delicious, without leaving you feeling overwhelmed or deprived.
I have to say the thing I admired and appreciated the most about 3 Phase Paleo ebook, was that I could pick out any recipe and I had already had all the ingredients in my kitchen. I made 4 recipes in the first day and I didn't need to go to the grocery store once. Which seems to be not the case with most specialty cookbooks. And any day I don't have to pack up three kids, drive 45 minutes to town and drag them into the grocery store,  is kind of like winning the mommy lottery.
When my family and I decided to change to a Paleo lifestyle (
Read story here)
one of the biggest foods my husband and kids missed the most was their crunchy cereal in the morning. Having ate the same thing for breakfast every day for the majority of their life, it became routine. And taking away their crunchy sugary cereal made them all feel deprived and a bit irritable, to be honest! (Sorry honey)
The fact is, when you change your diet or lifestyle, it is imperative that you continue with your "emotional staples" as I like to call them.  It gives your brain that sense of normalcy and routine. As parents of 3, Matt and Stacy also seem to totally understand this concept. Therefore, I was completely delighted to see that they included their crunchy Grain Free granola in this new book.  Of course I quickly whipped up a batch and had my husband taste test it. His remarks were "is it still considered Paleo if I eat the entire bowl?" Yes, it is that good!  A perfect substitution for sugary junk cereal. My husband and kiddos couldn't be happier that this recipe found its way into our home.
Not only are all these recipes family-friendly but Matt & Stacy also include tips such as a "food swaps list" basically a "instead of" chart. Example;  instead of tortillas and wraps,  swap out for lettuce cups. Also, a how to avoid always being in the kitchen , a grocery list and a how to stock a Paleo pantry.
Overall, I am completely thrilled with this book.  I think it is a must-have for any family that is not only trying to eat healthier but also trying to transition into the Paleo world. I wish this book would have been published several years ago when my family and I decided to transition into the Paleo lifestyle, it would've made the adjustment much simpler.
Okay and seriously… anybody who has once had a forward written to their book by thee, Joel Salatan, is hands down a friend of mine!
ENTER TO WIN…  This ecookbook could be yours!  Enter in the giveaway for your chance to win the Paleo Parents brand-new ecookbook,  3 Phase Paleo.