Two years ago I feel in love with the most beautiful JOY letters adorned on a lovely mantel in the Restoration Hardware catalog, but it was $199.00, seriously? for something that I only see for 30 days? No way!  So here it is 2 years later and I'm obviously I'm still pouting about not buying it, so this year I'm making my own and gifting it to my mantel.  Merry Christmas to me!  The best part is… my version cost under $15.00 Yup!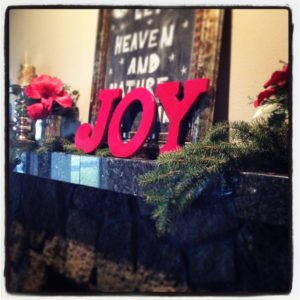 Here's what you need
JOY letters, I found these at Michaels for $3.99 each
Red spray paint
Clear glitter spray paint
In a well-ventilated area spray your JOY letters with the red paint, repeat after 20 minutes and allow to dry thoroughly, about an hour.  Once dry to the touch, spray your letters with a coat of glitter paint, this is stickier and takes longer to dry so allow 30 minutes between coats.  Spray up to 3 coats or as little as 1.  Let dry over for a few hours or even overnight.
Wrap your letter in a beautiful ribbon and tie with a bow or place above your fireplace and enjoy your $15 gift to yourself!