My absolute favorite Christmas ornaments are those that are handmade, with the majority of them being from my son.  Each year he makes me a new ornament and every December my heart melts again when I put it on the tree.  And at almost 12 years old he is still proud to show everyone which ones he made.
This year make a keepsake ornament for those you love.
   This keepsake ornament is perfect for friends or family who had a baby or got married this year.   The best part is, you can put any type of keepsake inside, children's artwork, baby shower invite, old concert tickets, or a cool napkin from vacation.  Ideas to stuff the ornament with are endless.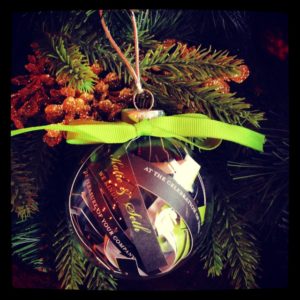 Not only does this gift take less than 20 minutes but it costs less than $1.00 each.  Hallmark can't even touch that!
Here's what ya need.
Glass ornaments. Michaels had a 4 pack for reg $4.99 on sale for $2.50!
Invitation or other keepsake.
Cut the keepsake into thin strips about ¼ of an inch. Remove the top of the ornament. One by one place the strips in the hole, if the strips are too large, roll them around your pink, and squeeze into the hole.  The rolled paper looks beautiful inside. Replace the top and tie with a coordinating bow.
Wrap well in tissue paper and package in a take-out box.  Done!