MILK-FED PASTURED PORK
The farmstead offers milk fed, pastured pork twice a year, spring and fall.  Our pigs are on pasture 27/4. They are free to root up dirt, munch on fresh grass and embrace their pigginess. Our heritage breed hogs are fed a local, non-gmo, corn free, soy free grain and grasses. Never any hormones, steroids or antibiotics.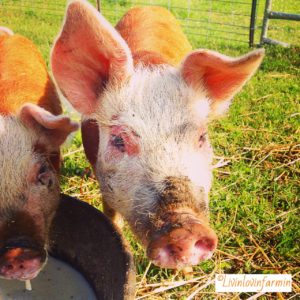 PORK BY THE CUT
Not ready for a whole pig?  Try our pork by the pound.  We are pleased to offer USDA inspected cuts from bacon, roasts,  ribs and hams, to specialty cuts like, cheddar dogs, keilbasa, smoked hocked, lard and breakfast links.
LOCKER PORK
BUY A WHOLE AND SAVE!   
OUR PIGS ARE $4.00LB FOR A WHOLE HOG.  
Buyer pays all butcher fees. Our average hogs hang at roughly 140-180lb. Sold by the half or the whole.
Deposit will be applied to the total amount due.
NOW TAKING ORDERS FOR Spring 2023
HOW TO ORDER WHOLE OR HALF PASTURED PORK
Reserve your hog by paying the deposit through the link below.  We will be delivering the pigs to the butcher for you.  Once the pigs are delivered we will send you a text or email.  The butcher will contact you within a few days to go over your 'cut list'.  Since your hog is custom processed, YOU get to choose what you would like to order.  The butcher (Heather) will ask you how many pork chops would you like per pack.  (We choose 6 because we are a family of 6.) What type of sausage, breakfast or Italian.  Bone in hams or no bone.
WHAT YOU GET
Since every order is unique, and every pig is a different weight, the below is just an example.
Pork chops.  Desired thickness, 3/4, 1′, 11/4 I highly encourage bone-IN
Roasts-  loin and/or shoulder. Bone in or boneless
Spare Ribs
Sausage- Breakfast or Italian, (or both if you purchased a whole)
Bacon- I say "bacon everything possible"!
Ham- Choose cured or fresh.  Bone in or no bone
Ham Hocks- For use in stocks and soups
Don't , forget to ask the butcher for these… Since the majority of these tasty treats have fallen out of societies taste buds, they no longer come standard with every order.  Please be sure to ask for them, they are yours.
Lard – Leaf lard is the glorious fat surrounds the kidneys.  This is the fat that you can render down for baking.
Jowl Bacon.  Its comes whole and you will need to slice it.  I use this like one would use a pork belly.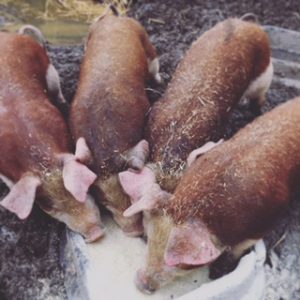 PORK RESERVATIONS ARE AVAILABLE FOR Spring 2023.
$250.00 DEPOSIT IS REQUIRED FOR A RESERVATION FOR A WHOLE HOG.
$150 FOR HALF HOG