That's right.  Pastured Turkey is back!  This year we are pleased to welcome back the delicious pastured, free range turkey.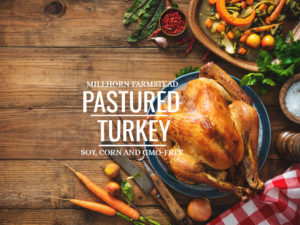 Want a turkey that will impress?  This is your bird.  Butchered at small, medium and large sizes to accommodate every table.  Our plump and juice turkeys typically range from 15-25lb.  Our turkeys are raised out on our timothy pasture and are free to forage on bugs, grubs and greens 24/7.  Never are our turkeys confined to a indoor housing.  Nor do we use antibiotics or hormones on our farm.
Turkeys are available for pre-order now! And will be ready for pick up in November. Turkeys must be picked up at the farm or during a scheduled milk drop in CDA.   For more info on drop dates and locations please email me at katie@millhornfarms.com.
Want a turkey for both Thanksgiving and Christmas, that's great.  Adjust the quantity check out cart and leave a note in the checkout cart.
TURKEYS ARE $5.00LB AND A $15.00 DEPOSIT IS REQUIRED IN ADVANCE TO RESERVE YOUR BIRD!