Our Scottish Highland fold roams and lives the way God intended, in fresh green grass fields and thick forests.  Our fold (herd) is home to two Bulls, Norman and Jasper. Both of our Highland bulls are tested to be A2 by UC Davis.  While this does not play factor in beef, we do use these bulls to breed our dairy girls as they are super docile (and make beautiful calves).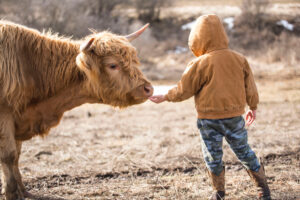 We process our beef just shy of 36 months.  This allows the highlands true marbling to come through, making the delicious, tender meat. Our cows are never feed gmos, steroids or antibiotics of any kinds.
Fill the freezer with the best meat at the best price.  Buying in bulk is always the most economical.  Our premium beef is $5.00lb plus processing fees (kill, cut,wrap).  Deposit is $500 whole $300 half.  Buyer is responsible for picking up beef from processor in CDA Idaho.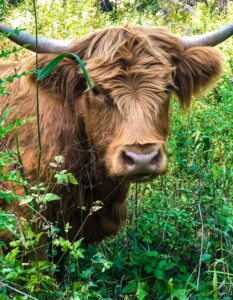 Grass fed and Barely/grass pellet finished last 90 days.
Next processing date is September 2022.  Limited supply.  Reserve yours today. 
UPDATE. SOLD OUT FOR 2022